These Floors in Weston Were Deeply Cleaned and Sealed by Our Grout Sealing Company
October 15, 2023
Grout is a porous material that deteriorates fast. It can become dingy and unattractive due to wear and tear, giving any surface a worn look. Depending on the extent of the damage, maintenance can be difficult, and the solution frequently necessitates more than routine cleaning. This resident had difficulties with her tile surfaces. The floors had degraded after years of continual use, and they looked dirty and unattractive. The owner attempted to resolve the issue, but nothing changed. She decided to hire expert aid after reviewing her choices.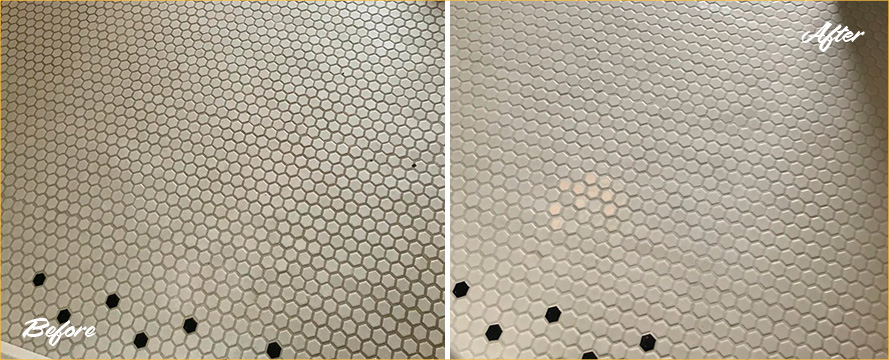 Fortunately, one of her neighbors recommended Sir Grout of Greater Fairfield County. He was a devoted customer, and when she asked for advice, he strongly recommended our
grout sealing services in Weston, CT
, saying we were the most professional in town. The owner followed her neighbor's advice and went online to learn more. She filled out the "Request a Quote" form and asked for a free inspection after visiting our
picture gallery
, reading some of our blogs, and going through the feedback we have received.
We went to the owner's residence at her request to provide an in-home consultation. We started the inspection right away because the owner was waiting for us. We saw the issues as soon as we entered the area. The grout had deteriorated and taken on a dark color. Furthermore, the grout was not sealed. We mentioned that this common combination is porous and has been exposed to a variety of external chemicals, which can lead to additional problems. A specific sealant was required to avoid further degradation.
We had the insight to offer a solution to the owner after a satisfactory inspection. We offered our grout sealing services after determining that the restoration would require professional care. We would repair the damage, restore the state of the floors, and provide a tough shield to the one-inch tile surfaces using our superior method and high-end equipment. The client was so pleased with the outcome that she decided to hire us, and we scheduled a date to perform our restoration.
We returned to the home a few days later to begin the restoration. The owner welcomed us back, and after arranging the equipment, we began the extensive multi-step procedure. First, we used our unique bio-safe cleaner to clean the surfaces. Our product is made with high-quality components and does not leave a residue, so it will not harm your hard surfaces. Next came the sealing step.
For this step, we used ColorSeal, Sir Grout's trademark sealer. Our superior product provides unrivaled defense and long-term effects. It repels dirt, filth, and other external agents, slowing degradation and making cleaning practices simple and quick. ColorSeal significantly enhances the surface, giving the grout a consistent color and a new look. It is available in a variety of colors, which allows our customer to select the one that best suits her preferences.
As expected, the results were fantastic; the surfaces had been completely restored, and everything looked amazing. We were prepared to show our client our success. The owner was pleased with the fresh look of her floors. She was really happy since the process had been quick. The owner thanked us and promised us that she would recommend Sir Grout of Greater Fairfield County to her friends.
One-inch tile surfaces are beautiful and attractive. Their geometric designs make them stand out no matter the area, and they're also slip-resistant. They are, however, vulnerable to deterioration and require adequate maintenance. It is critical to follow our recommendations in order to preserve these surfaces in good shape. We recommended establishing a weekly cleaning practice that uses only pH-neutral, soap-free cleaners such as
Sir Grout's Natural Hard Surface Cleaner
. Our product is, without a doubt, a great alternative on the market, providing amazing results and several perks. It is also non-toxic and safe for all members of the house, including pets.
Soap-based cleaners and acidic chemicals are not recommended. These products produce sticky foam, which causes stains, discoloration, and a variety of other problems. Furthermore, they include abrasive substances that might have a detrimental impact on the stone, creating difficulties such as etching. Always use clean mops while cleaning the area, and allow the floors to dry before entering the room again. Abrasive tools should never be used since they might harm the one-inch tile, producing scratches and other defects.
If you are having trouble with your hard surfaces, Sir Grout of Greater Fairfield County offers fantastic results when it comes to the care and maintenance of these hard-to-clean surfaces. Call us at
(203) 702-4896
or click on the "Schedule a Free Quote" button on this page to schedule a free consultation today. If you want to keep up with our latest news and promotions, subscribe to our
newsletter
.