Welcome to the commercial category for the Sir Grout of Greater Fairfield County Blog. Here you'll find blog posts related to stone, tile, and wood surfaces that we've restored in commercial properties. See the amazing transformations with the included before and after pictures. Feel free to share and leave your comments.
Published October 20, 2015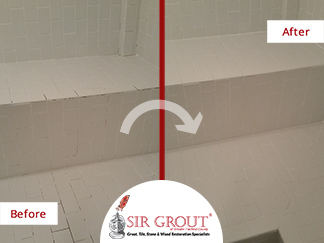 (Video) Grout Recoloring Gives New Look and Feel to New Milford Fitness Center
Grout in a residential shower experiences years of abuse in form of moisture, mildew, dirt, improper cleaning products and neglect. It is easy to surmise, then, that a shower in a commercial gym and fitness center receives years' worth of abuse every few days.
READ MORE
Published June 12, 2015
Tarnished Marble Floor in Century-Old New Milford Bank Is Given a Makeover
This month marks the 113th anniversary of the fire that swept through New Milford in 1902, causing 33 buildings and 12 barns to go up in flames. As you probably know, the main areas affected were Bank Street and a section of New Milford's business district.
READ MORE