Overview:
Within the tile and grout industry our trademark cleaning, repair and flagship "grout color sealing process" have set us apart from the traditional restoration methods.
Sir Grout also offers natural stone honing, polishing and sealing for marble, granite, travertine, limestone, and other natural stones. We provide all professional services to recover the splendor of your hard surfaces. Whether it's tile or grout cleaning and sealing or natural stone restoration our unique processes and products will transform and renew floors, kitchens, foyers, mudrooms, bathrooms, showers and more in typically less than a day.
By scheduling an appointment, Sir Grout can offer free in-home/office consultations providing detailed written estimates and descriptions of our services supported by a written warranty. All our locations are locally owned and operated (licensed and insured). Each Sir Grout service technician undergoes an extensive training process and is qualified to help you understand the best way to care for your surfaces once work has been completed.
The Sir Grout Franchise has been recognized and awarded by many publications, including Entrepreneur Magazine's list of Top Franchises and Top New Businesses as well as review sites such as Angi and Thousands of satisfied customers. With rapid growth, Sir Grout is the best choice for floor care and restoration by homeowners and businesses throughout the US.
Owner, Tom Lindberg
Tom always knew when he grew up he wanted a job that enabled him to interact with people, and after spending over 20 years in the consumer automotive aftermarket, he decided to embark on a new journey. In 2005, he founded Sir Grout, and even though it was something he didn't anticipate, it was a perfect fit due to his personality.
Leading Sir Grout allowed him to personally connect with his local customer base as well as other interested parties who later became a part of his national Sir Grout Franchise. He stated: "I'm truly relieved to be out of the cut-throat corporate environment. I enjoy educating like-minded people on how to best take care of their customers' hard surface needs with Sir Grout's cutting-edge processes and equipment. We are currently delighting customers all over the U.S with over 60 locations."
Having previously been President and CEO of Interdynamics, Inc. as well as a Vice President, responsible for Honeywell International's consumer automotive brands has certainly prepared Mr. Lindberg to take on a "customer services" role. "It's all about taking care of your customers in a genuine and ethical manner and the positive feedback we receive inspires us to maintain the highest level of service possible. The difference is our people, processes and products."
The exemplary way he personally runs Sir Grout of Greater Fairfield County proves he firmly holds true to his beliefs. He continues: "We are a leading innovator in the American hard surface care industry. Thanks to our experience, we can recognize the special needs of homeowners and businesses. We know our customers want convenient, cost-effective, quick results, and because of that, we have developed unique products and processes that can fully revamp tarnished hard surfaces in under a day. Customer satisfaction is our top priority, and as a result, Sir Grout is recognized annually by Entrepreneur Magazine on their Franchise 500 list. We take pride in our work, and every project we do holds the same high standard of workmanship."
In 2021, Tom and his partner sold the national franchise to the Riverside Company and they are continuing to grow Sir Grout at a rapid pace. However, Tom remains the owner of the original Sir Grout territory, serving Greater Fairfield and Litchfield Counties.
Co-Owner, Karl Lindberg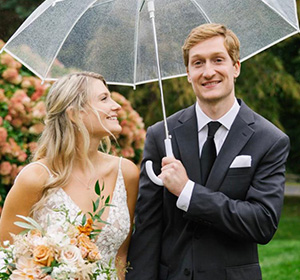 In 2021, Tom's son, Karl Lindberg, became Co-Owner, and since 2016, he has been an integral part of the team, delighting customers with his skills as a certified Sir Grout technician and sales professional. Karl has a Communications and Marketing Degree from Plymouth State University (New Hampshire) and undoubtedly, he is well-prepared to continue the family business.
"Karl, who lives with his fiancÚ in Connecticut, genuinely wants to lead our team of hard surface professionals. Thanks to his perfectionist attitude, he is respected and admired by his peers and customers alike." Mr. Lindberg stated. "Karl's mother and I are enormously proud of him, and I know he will lead this company until the next generation comes along."
Technicians
All Sir Grout of Greater Fairfield County Technicians are trained in house and held to a high standard of workmanship and ethical behavior. All jobs are completed by our employees and none of our work is performed by subcontractors.