Stone Honing: Outstanding Process to Restore Dulled Marble Countertops in Ridgefield, CT
October 09, 2018
Marble is a beautiful natural stone that provides elegance and style for homeowners who want an upscale look in their house. Durable and versatile, this stone has become the ideal choice for kitchen and bathroom countertops, offering one of the most luxurious options in the market. It is a resistant material that can last for decades, but it's not impervious to damages and requires proper maintenance to keep its gorgeous appearance. Since marble has a porous composition, it absorbs all sorts of liquids easily. In the kitchen, spills from acidic or colorful substances such as wines and juices can leave dull spots on the surface. These blemishes are known as etching, and they can't be removed with conventional methods. Using harsh cleaning products can cause more damage to the stone because chemicals produce negative reactions on the marble. When the surface is etched, dull, and unappealing, only professionals with special honing pads and products can bring back the beauty of the stone.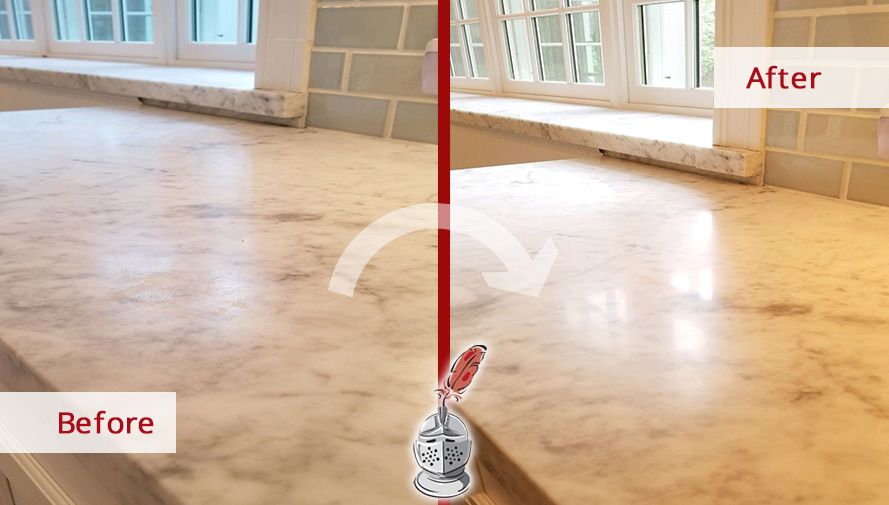 Our next client, a housewife from Ridgefield, CT, decided to remodel her kitchen's countertop using marble. When it was newly installed, it was astonishing. It evoked charm, style, and it gave the house an air of sophistication the owner really loved. The white marble countertop received many compliments and all her guests were enchanted by its dazzling appearance. Unfortunately, after several months, the beauty started to fade from the surface. She noticed dull spots, stains, and scratches appearing on the stone. Her countertop no longer looked pristine and spotless. The marble was marred by etching and discoloration. The issues couldn't be solved with conventional means, so she needed to contact our
stone honing experts in Ridgefield, CT
to restore the natural allure on the marble.
The housewife had no idea why the countertop was in such condition. She always kept the house clean and focused her attention on keeping the marble surface looking great. Nevertheless, she was determined to solve the problem using a different cleaning method. She found some DIY method in a magazine and chose to give it a try. As instructed, she mixed baking soda and dishwashing liquid with warm water. She applied the mixture on the kitchen's countertop using a sponge and scrubbing the surface. This chore took a long time as the woman tried her best to remove all the dull spots and flaws from the stone. Unfortunately, there were no positive changes and the issues remained, taking away all the charm of the rock. The owner was not pleased with this outcome. After weighing her options, she decided to look for professional assistance.
She went online and read about restoring marble surfaces. She soon learned that professionals in hard surface could remove the dullness and discoloration using special honing equipment. She searched for the best stone honing company in Ridgefield, CT. In the top results she found Sir Grout of Greater Fairfield County and began browsing our website. As she was reading the homepage, the
picture gallery
caught her attention. She was relieved to see we had achieved incredible restorations on marble surfaces that had the same damage as her kitchen's countertop. After checking the comments and testimonials from previous clients, she realized all our feedback was positive and all customers were satisfied. This convinced her we could solve her problem. She filled out a "Request a Quote" form to schedule a free in-home consultation.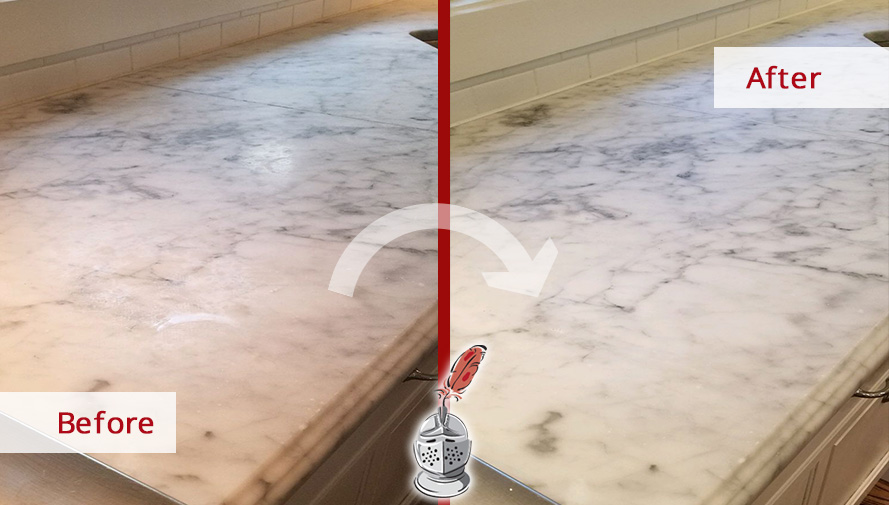 A couple of days later, we arrived at the home to begin the assessment of the countertop and to offer the most effective solution for its restoration. We greeted the owner and proceeded with the evaluation of the surface. At first glance, we noticed it was discolored and etched. We could see wine stains embedded in the marble. We explained that those dull spots are known as etching, which is a dulling of the stone caused by harsh cleaning products or spills of acidic substances left on the surface for long periods of time. We told her that the surface absorbs all sorts of liquids and accumulates stains because it is a porous material and is highly prone to those kinds of harm. When this happens, the stone has to be honed to rectify the damaged spots. This can only be done with professional treatment and high-grade honing pads.
We offered a stone honing service to restore the surface and remove all the blemishes and dull spots from the stone. We would use our experienced techniques and high-quality, exclusive products to ensure optimal results. We would hone the marble to any finish she requested. Our process is effective because it reaches a brand-new layer of the stone and removes the old dirty surface. We assured the owner that after we finished our work, her marble countertop would look amazing and beautiful once again. She was pleased with our assessment, and after hearing we could solve her problem, she immediately agreed to set up a date for the job.
We returned to our client's house on the appointed date to begin the stone honing process. It was a procedure that required skillful techniques, professional tools, and superior products. Several steps were going to be necessary to complete the job. We started by cleaning the countertop using our stone-safe product and a high-speed scrubber. Our cleaner is safe for tile and grout, and this product has been enhanced with an ingredient that can help inhibit the growth of bacteria, fungi, mold and microorganisms. We ran three sets of honing pads with increasing levels of grit. We continued grinding until all etches, scratches, and stains were removed. As the owner requested, we honed the marble to a satin finish because she didn't want it to be shiny.
After a thorough honing, the countertop looked fantastic. The stone had lightened and was more uniform thanks to our professional equipment. All the issues it had were gone, revealing the beauty of the marble. The surface regained its amazing natural charm and allure. This level of restoration could have only been achieved with our experienced work and techniques. The renewed stone would be easier to keep, and with the right maintenance, its great condition would last for a long time.
We invited our client to see the results of our work. She was delighted to see her countertop clean and pristine. All the dullness had disappeared and the stains no longer besmirched the elegance of the marble. Pleased with our performance, the owner stated that from that point on, she would certainly recommend Sir Grout of Greater Fairfield County to all her friends, family, and neighbors. We provide our clients the best solution for their problem and guarantee long lasting, easy to maintain results.
We also take time to train our clients on how to perform proper maintenance on their restored surface. Before leaving, we gave the owner some recommendations and suggestions to keep the flawless condition of the marble:
If any spill occurs, they should be cleaned up immediately. This is because marble is porous and can easily absorb liquids that linger on the stone, causing stains or discoloration. Use a wet microfiber cloth to wipe out the surface gently to prevent any scratches.


Use pH-neutral, stone-safe cleaners, such as our Sir Grout's Natural Hard Surface Cleaner. Our product is safe for any type of stone and has ingredients that can help provide protection against bacteria and fungi. It is important to stay away from harsh cleaners because marble is highly sensitive to anything acidic. Using these types of cleaners will create etches on the stone, leaving dull spots on the surface. Do not use: vinegar, ammonia, citrus cleaners, and cleaners intended for ceramic.


Do not let the surface air dry. If water/cleaning solution is allowed to soak into the marble, it could cause discoloration or stains.
Our advanced techniques, high-quality products, and these easy to follow steps are guaranteed to keep the gorgeous, restored, honed appearance of her countertop for years to come.
It is possible to restore the elegance of your dull, lifeless marble countertop with Sir Grout of Greater Fairfield County's professional help. Our award-wining stone honing processes will bring back the beauty to any stone surface. We provide experienced and qualified assistance that will make any type of natural stone sparkle again. As a leading company in the hard surface restoration industry, we offer the most effective techniques to help you with your problem. Don't hesitate to contact us by calling
(203) 702-4896
or by filling out our "Request a Quote" form for a free in-home consultation. We will attend you gladly. Also, be sure to subscribe to our
newsletter
to receive our latest info and promotions.
If you found this article helpful then let us know in the comments section below. Likewise, feel free to share it using the share options below. Want us to cover another topic of your interest pertaining to Hard Surface Restoration? If so, then like us and follow us on social media, and post to any of our social media profiles the topic you'd like us to discuss:
Facebook Sir Grout of Greater Fairfield County
,
Instagram @sirgrout
, and
Twitter @SirGrout
.