Beautiful New Canaan Walk-In Shower Gets a Makeover with a Stone Cleaning
February 08, 2016
A young woman in New Canaan, Connecticut came into a little money. She knew that a home would be a good investment. She purchased a beautiful home with a large, walk-in shower with stone tile. She loved the chic, elegant feel of a natural, spacious shower to spend her mornings – it quickly became her in-home spa and sanctuary. She worked hard to keep it clean, but no matter how much bleach she used, her grout and stone became discolored. As chemicals and minerals from the water collected on the surface of the stone and grout, the shower began looking more and more dingy. She was able to put a dent into the soap film and mold every so often, but it seemed that after what she thought was a thorough cleaning, the shower's color worsened by a shade.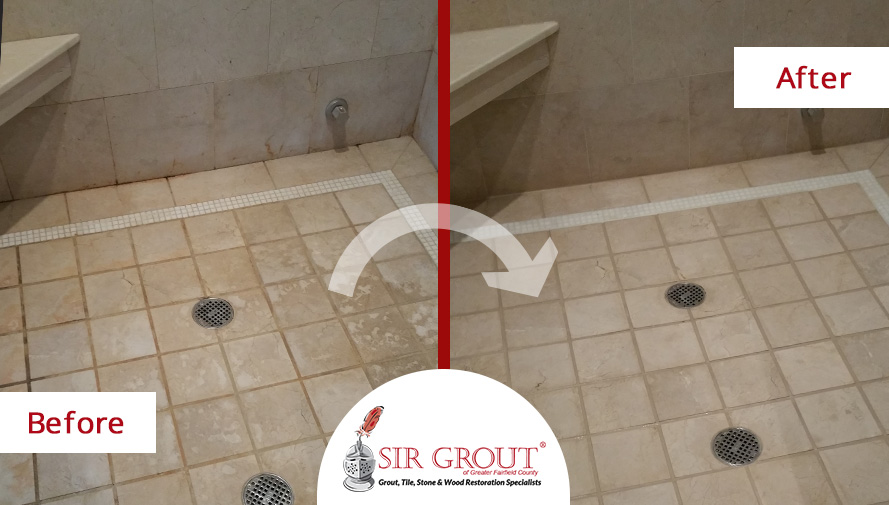 Frustrated and confused, she asked her friends for a recommendation for a local
New Canaan stone cleaning
service. One of her friends suggested she try Sir Grout of Greater Fairfield County. She called them and described her situation. Sir Grout of Greater Fairfield County offered her a free evaluation and set up a time to evaluate the damage.
The problem with stone tile in a shower is that oftentimes, the cleaners used to remove mold and mildew are too harsh for the stone itself. Homeowners who use "natural" chemicals like vinegar, bleach, or citrus-based cleaners do damage to their hard surfaces. Stone and grout are particularly vulnerable to this. The problem is the acid. Once the acid eats away at the seal that protects the stone tile, it begins interacting with the stone beneath, in most cases eating through the calcium present in the stone and creating etch marks that look identical to water marks – and a constantly dirty appearance.
That's not to say that homeowners should not use stone – there are great ways to maintain stone tile in showers, and the damage can be repaired as well. When the stone cleaning and restoration experts arrived at her home, they first inspected the dirty-looking shower. Seal damage? Check. Stone damage? Check. Grout damage? Check. They knew exactly what to do.
First, they honed the stone shower floor to create uniformity. All the deterioration from chemicals, minerals, soap film, and mold was removed in this stone honing process, which evens out and essentially resurfaces the stone to an undamaged state. After that, the team cleaned it thoroughly and sealed it with Stone Armor to prevent future damage to the stone.
Next, they dealt with the moldy grout. After heavily cleaning it, they used ColorSeal to simultaneously protect the grout and create a uniform appearance. Grout is porous, and oftentimes when it is first installed it must be left to cure – but the installers will not come back to seal the grout! This creates a big problem for many homes – the grout deteriorates and becomes stained from being exposed to soap scum and the subsequent mold which are impossible to clean easily on unsealed grout. ColorSeal is a great way to fill deteriorated, stained grout without having to replace or remove anything. It is a tinted sealer which coats the top of the grout, creating an even surface that is water-resistant, mold- and mildew-resistant, and stain-resistant. With ColorSeal, uniform color is achieved to a pristine level – the pigment is even more uniform than most grout looks when freshly installed.
The experts showed the worried homeowner a few different tints for her new grout color. Once selected and applied, the end result was beautiful! She could not have been more pleased. Then, the technicians explained how to best clean her stone tile and grout once they were gone.
The key to cleaning stone and grout is to use pH-neutral, soap-less cleaners. When acidic or alkaline cleaners come into contact with stone, they often do damage. The team offered this happy homeowner Sir Grout Maintenance Cleaner, a pH-neutral product that would help her keep her stone in good shape. Cleaners aren't the only thing causing damage or buildup in the shower, however. So do bar soaps! The team reminded her to use liquid soaps in her shower from now on – the reason for some of the damage was the stubborn soap scum from bar soaps, which are less water soluble than liquid soaps, and don't go down the drain as easily.
Finally, the team recommended she use the new Sir Grout Shower Armor, a spray that can be applied to all surfaces, stone, grout, tile, and even glass. When applied every month, or as-needed, this product will block mineral deposits from depositing themselves on all shower surfaces, reducing cleaning effort altogether!
This homeowner was lucky. The damage to her shower was starting to deteriorate grout – in some areas she was even missing grout and the grout was cracked. This can be a huge source of water damage in the home. Instead of recommending a remodel, the team applied some STAINMASTER® epoxy grout in all the expansion joints that were missing grout. Fortunately, there was no damage – and with the shower restoration maintained properly, there won't be.
If your shower resembles the ones in the "before" photo above, don't let the situation get dire. Water damage can severely devalue your property, and get you stuck paying for expensive remodeling and repair. Call
(203) 702-4896
for a free evaluation, today!
If you found this article helpful then let us know in the comments section below. Likewise, feel free to share it using the share options below. Want us to cover another topic of your interest pertaining to Hard Surface Restoration? If so, then like us and follow us on social media, and post to any of our social media profiles the topic you'd like us to discuss:
Facebook Sir Grout of Greater Fairfield County
,
Instagram @sirgrout
, and
Twitter @SirGrout
.