A Professional Stone Cleaning Job in Fairfield, CT Revitalized This Dull Natural Stone Floor
February 21, 2023
Natural stone can be used in a variety of settings. It offers durability, versatility, and a wide range of options, such as marble, granite, and limestone. For many homeowners, it is an ideal choice for floors because it is resilient and can withstand heavy wear and tear. However, as strong as stone flooring is, it requires proper maintenance in order to keep it beautiful and in good condition.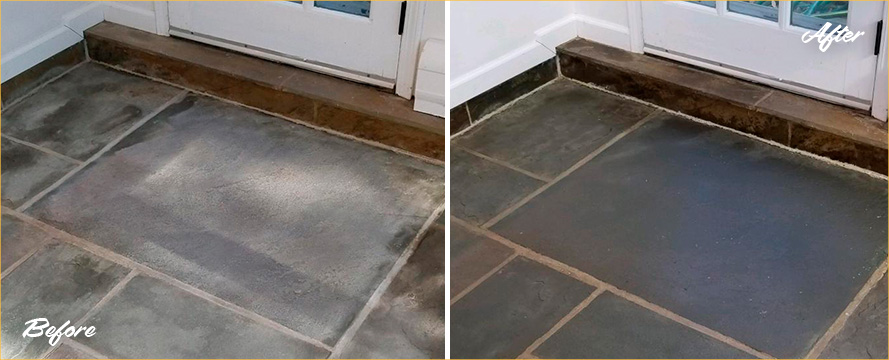 Stone surfaces can be vulnerable to certain liquids and prone to staining and discoloration. Spills of acidic or colorful substances can cause dull spots to appear. This deterioration can't be removed with conventional means. Furthermore, using harsh products and improper cleaning methods can only cause more harm, producing negative reactions that can leave the floor unappealing. A special stone cleaning process is necessary to get rid of these damages safely.
Our next client's natural stone floor was in poor condition. It had blotchy spots that gave the entire surface an unsightly appearance. Cleaning and maintenance had become a struggle. No matter how much she tried, the blemishes remained on the floor. Determined to solve the issue, she used products like vinegar, ammonia, and other harsh cleaners, but nothing seemed to work. In fact, she noticed negative reactions on the stone. After considering her options, she decided to look for professional assistance. Thanks to her decision, she found Sir Grout of Greater Fairfield County. Later, our
Fairfield stone cleaning
experts fixed the problems and prevented any more damage.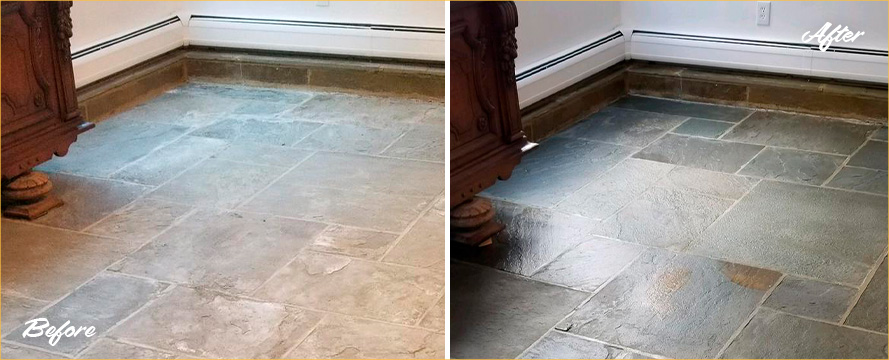 One of her neighbors recommended Sir Grout of Greater Fairfield County. We had successfully restored his marble shower a few months earlier. He was very pleased with the results and advised her to check out our website to get all the information she might need. Following his suggestion, she went online to visit our site. On the page, she read testimonials from our previous satisfied customers and browsed the
picture gallery
. The positive feedback and the pictures certified the quality of our work. After checking our site, she was convinced we could help her. She scheduled a free in-home consultation by filling out the "Schedule a Free Quote" form.
We arrived a few days later to begin the evaluation of the surface and to offer the most effective solution for the problems. After a brief introduction, we began the assessment of the floor. We noticed the uneven color of the stone. The floor suffered from heavy wear and tear, leaving the surface with a lackluster appearance. Moreover, using products with harsh properties only caused more damage. We continued by checking the sealant. The test showed us that the stone needed sealing. We explained that if the stone is unsealed, it can absorb all sorts of external agents like cleaner residue or spills left on the surface. We pointed out that the composition of this natural stone is highly susceptible to these issues. When we finished the inspection, we concluded that it was necessary to perform proper maintenance and professional treatment for full restoration.
We proposed a stone cleaning service to remove all the blemishes and give the stone floor a breath of new life. We would also apply our sealant and leave the stone with long-term protection. We assured the owner her floor would have a completely revamped look when we were finished. After our assessment, she was convinced we could restore her floor, so he decided to hire us.
We returned to our client's house on the appointed date for the restoration of the surface. Our stone cleaning process is a multi-step procedure that requires our professional tools and experienced methods. We cleaned the floor using our exclusive stone-safe cleaning solution and a high-speed scrubber. This product won't cause any damage to the stone because it doesn't leave any residue. Additionally, our cleaner has an enhanced formula that can help inhibit the growth of bacteria and fungi for an extended period of time after application. When the floor was no longer dirty, we applied our special sealant. This product is especially useful on floors because it protects the surfaces from wear and tear caused by heavy foot traffic. It blocks the absorption of liquids, warding off stains and other signs of deterioration. In addition, it enhances the stone by giving it a renewed appearance.
We thoroughly worked on the entire floor and made sure to remove all the damage. When we finished, the surface looked fantastic. We invited our client to see the results of our stone cleaning process. She was impressed because the floor had a beautiful uniform color. The blotchy spots were gone, and the stone had a gorgeous, brand-new appearance. After finishing her inspection, she said our performance had gone beyond her expectations. She was very happy with the quality of the restoration. From that point on, she would recommend our services to all her friends, family, and neighbors. Sir Grout of Greater Fairfield County had become her company of choice for hard surface restoration.
Before leaving, as we always do with all our clients, we took time to teach the owner how to perform more effective cleaning routines on her stone floor. We recommended cleaning the surface periodically using only pH-neutral soap-free cleaners like
Sir Grout's Natural Hard Surface Cleaner
. Our product doesn't leave any residue and won't cause any damage. It has ingredients that can help provide protection against bacteria and fungi. Furthermore, it is non-toxic and safe for everyone in the house, including pets. It is also important to keep the floors as dry as possible. Leaving spills on the surface for too long can allow them to settle into the stone. This will leave marks on the floor. Dry any spill immediately using a towel or a terry cloth. We don't recommend using abrasive tools like steel wool because they can scratch the stone. Excessive force is not necessary when scrubbing the surface after our sealant is applied. Regular cleaning routines will require minimal effort.
We advised her to avoid using soap-based or acidic cleaners to prevent damage. These products contain harsh agents that can deteriorate the stone. They produce negative effects and cause dull spots to appear on the tiles. Additionally, we don't recommend using dirty mops when cleaning the floor. Rinsing a dirty mop into the cleaning solution leads to grime build-up. For this reason, she should only use clean mops. Finally, we recommended checking the sealant periodically by pouring a few drops of water on the surface. If the stone absorbs the liquid, then it needs sealing. It is important to reapply the sealant every year to keep the floor fully protected and in great condition.
Sir Grout of Greater Fairfield County's certified experts can give your blotchy natural stone floor an amazing new look. We have stone cleaning processes that can revitalize any type of surface in just one day. Our experienced and qualified professionals will make your stone beautiful once again. As a leading company in the hard surface restoration industry, we have effective and reliable solutions at your disposal. Don't hesitate contacting us by calling
(203) 702-4896
or by filling out our "Schedule a Free Quote" form for a free in-home consultation. We will be happy to attend you. Also, be sure to subscribe to our
newsletter
to receive our latest info and promotions.